November 20, 2018
Meet Our Team: 5 Questions with Robin I. Fuqua, SPHR, GRP, CCP, SHRM-SCP | AVP Human Resources | HealthTrust & Board Secretary for NeedLink Nashville
"I work for a company that strongly emphasizes giving back to the community; after volunteering for a couple of years in an HR consultant capacity and getting to know NeedLink and its mission, I was invited to join the Board of NeedLink and it has been extremely rewarding."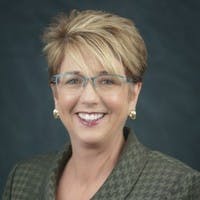 1. What Word Best Describes You?
Relentless.
2. What client story from NeedLink has been most memorable for you?
At a Board Meeting, we have the privilege of hearing about the clients we serve through our Mission Moments. A few months ago, I was deeply touched by the story of Mary and her husband, Joe. Both were hard working, full-time employed Nashvillians, and together, they were able to live comfortably. When Joe had a stroke, their lives were changed forever. He survived but the loss of his income created a virtual tsunami of debt and stress for Mary. While waiting for his social security payment approval, they needed our help to maintain their home. Knowing that my time and resources are spent helping people during an unforeseen crisis like Mary and Joe keeps our mission and purpose in the forefront of my mind.
3. What book are you reading lately and where do you like to grab a bite to eat?
Managing Differences by Daniel Dana, Ph.D.
4. Name one of your heroes and tell us about them.
All our troops, current and former military, for keeping our country safe.
5. Where do you like to grab a bite to eat and what is your typical order?
Chef's Market in Goodlettsville. Typically a Salad Trio to go. Everything they prepare is freshly made!!